Remote support
Our remote customer support is provided through a remote desktop connection and is available to all our customers. Its use is very easy thanks to the customized version of TeamViewer. It is not necessary to set anything or install it, and therefore even a complete layman can use it.
How it works and what are the options
Remote desktop support is an ideal solution when you need to solve a problem from the customer's po­sition. By prior arrangement, our specialists will connect to your computer and thus gain almost the same options as if they were sitting next to you. The result is a quick solution to the problem without the need for long descriptions. During this connection, you can also communicate with our specialist directly in the application.
The application is cross-platform and supports all the most popular operating systems (OSX, Linux Windows). The correct version for your operating system will be downloaded automatically by clicking on our link below.
How to do it?
1.First it is necessary to contact our technical support in the client section or by phone. Our specialists will agree with you the exact time when the connection will be made.
2. Before connecting our specialists, download the customized version of TeamViewer by clicking on the image below: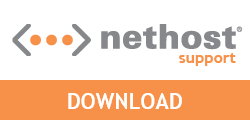 3. After you are contacted by a technical support specialist, run the program. The program first loads the settings. Wait for the incoming connection under the name NETHOST support and accept this connection.

4. When the connection is closed, you can close the application, delete it, or keep it for future reference.