Need a worry-free hostiing solution?
Looking for a hosting for a simple website, or an undemanding application?
Order Easy Hosting with its advantages:
Simplycity
Everythings really works
Carefree
Reliability
Low price or free
HTTP/2 support
Choose from two Easy Hosting options. Both will fullfill whatever the configurations bellow promise without paying for the small missing "extras". our offer is fair and fully transparent.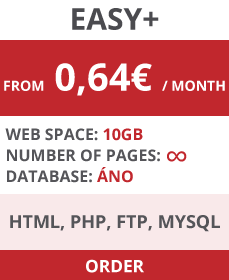 * Price is conditioned by a complete domain management at nethost and by directing the DNS records to our servers.
All prices are without VAT and include the calculated bonus.
Aren't the Easy Hosting parameters sufficient? Then we have prepared a number of other products e.g. Cheap Hosting or Flexi Hosting.